Looking for some fun, easy recipes? Scriptures to ponder? Books and articles to dig into? I've got you. Here's the November Lately List.
Do you also love a good "top ten" list from bloggers? It's a modge podge of recipes, books, shows, products and fun.
Y'all, I've been reading blogs for over a decade and blogging myself for over a decade (what?!) and just realized I could do this, too.
Sheesh.
So, this is your little nudge, too.
So, here's my "thing" – the new monthly lately list. Enjoy!
Head's up! As an Amazon Associate, I earn from qualifying purchases. This is at no extra cost to you. (Woohoo!)
Dwelling on these Scriptures…
When self-recriminating or accusative thoughts come creeping in, I've been giving them the beatdown. This has been changing my thought life for the better! More about this in an upcoming post!
Doesn't this fill you with so much gushy, good feelings? You are God's beloved child!
Repeat to self each day.
Reading
My online women's connect group is digging into this. It's been a great heart-check for processing and acknowledging self-doubt.
Magic. Spell-breaking. Mystery. So far it's a winner!
Learning
Parenting Education with a Montessori-ish Framework
I love the idea of creating an environment that helps my son develop independence and skills.
Articles I've been pondering:
A Funky Montessori Word, Explained: Normalization (podcast/notes)
5 Reasons We Should Stop Distracting Toddlers (And What To Do Instead)
How to Dye Clothes
You know what is super easy and fun? Dyeing cloth.
Ohmygosh. I dyed 4 items recently and can't wait to experiment with my trench coat.
Tools to use
Dye
Salt or white vinegar (depending on the type of cloth you're dyeing)
Plastic gloves
Making…
Last year, I created an Advent calendar for my family. Each day included Scripture to focus on, a family-oriented activity, and a marriage-oriented activity.
And then… We got sick. We moved. We had surprise guests. It was a bust.
Now we're restarting with a focus on activities that are friendly for an active toddler and being close at home.
When I have this whipped up, I'll share it with subscribers! I hope it brings some joy and fun into your holiday season!
Tasting…
Bulk Frozen Dishes
Homemade freezer dishes are amazing. We've been making large batches of breakfast casseroles and breakfast burritos.
To make these recipes easy, we stock up on eggs, sausage, beans, potatoes, tortillas, cheese, milk and frozen veggies.
Here's a couple recipes for inspiration:
Homemade Fudgesicles
Recently in a desperate search to use about-to-expire milk, I discovered a simple, relatively healthy fudgesicle recipe. (I reduced the sugar by about a third.)
My son and I became instant fans.
Popsicles for breakfast? Yes. Lunch? Totally.
Intimidated by how to make easy popsicles? This
Frothy Homemade Lattes
When I was pregnant with my son, I was put on modified bed rest. This meant working from home and less physical activity. (I missed exercise SO BAD!)

I picked up a

Two years later, that frother has continued making life a little more decadent at home.

Naptimes feel a little more fancy with a coffee or tea latte. Bonus points for being frugal fancy!

How to Make Tea Lattes + 17 Tea Latte Recipes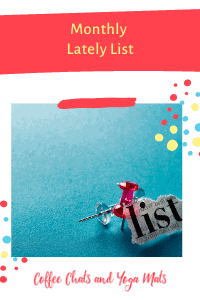 Other related Lately List posts
Wrap-Up of the November Lately List
I hope you enjoyed my November lately list.

What's on your lately list? Anything you want to try out? Explore?

Let me know in the comments!